Lesson 01 of 09 - Introduction to the Simple Food Diet
Course Overview
My name is Stephan J. Guyenet, PhD, and I co-created the Ideal Weight Program with Dan Pardi. I'm a researcher and writer who specializes in the neuroscience of eating behavior and obesity. I have a lifelong interest in health, nutrition, and fitness that has guided my career. My research has been cited more than 1,700 times by my scientific peers and my general-audience book The Hungry Brain has received an outstanding reception from researchers, doctors, and the general public.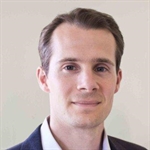 Welcome to the Ideal Weight Program, an evidence-based system for sustainable weight management. This course-based program teaches you the science of body weight and eating behavior and translates it into simple, practical strategies for weight management. It offers three different diets based on your personal weight management goal—from rapid fat loss to healthy weight maintenance—along with recipes and meal plans to support it.
The Ideal Weight Program also integrates with humanOS tools that track your weight, physical activity, and sleep, maintaining your awareness of key behaviors and motivating you to stay on track. For those who have read The Hungry Brain, the Ideal Weight Program dovetails with the concepts in my book. For those who haven't read it, the program doesn't require it, although you may find it interesting if you want to dig deeper into the science behind the program.
Here are a few tips to help you get the most out of the program:
Start with the Welcome course

. This will orient you and teach you how to use the program. You'll also want to watch the tutorial videos on how to use the humanOS tracking tools that complement the program.

Don't rush

. The goal of the Ideal Weight Program is to give you the life skills you need for long-term weight management. Take your time, learn the material well, and apply it to your life step by step.

Repetition is the mother of learning.

We encourage you to go through lessons more than once to reinforce the concepts. There are quizzes interspersed throughout the course designed to keep you focused and help you retain what you're learning.

Personalize

. The Ideal Weight Program is designed to fit a wide range of lifestyles and food preferences. That means you get to choose how to apply the principles to your everyday life to get the greatest benefit. Organize your dashboard to reflect your preferences and priorities.
We wish you the best on your weight management journey!
Stephan J. Guyenet, PhD
and the humanOS team