Apricot Pecan Chicken Salad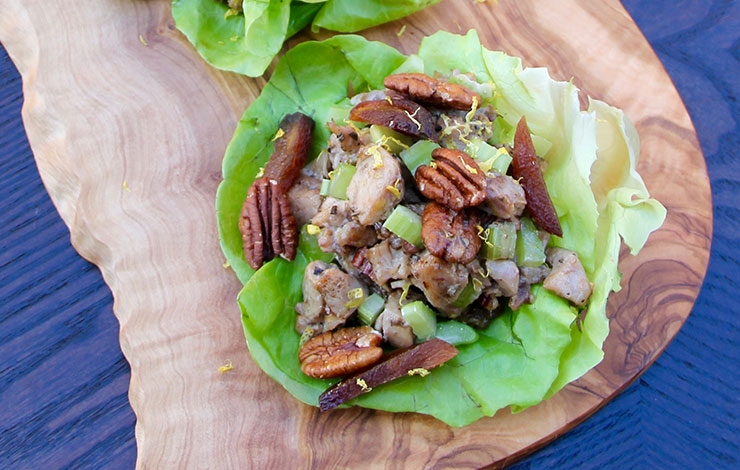 This is a great meal to have in the fridge for a refreshing lunch and something easily portable for the office or on the run. It's a flexible recipe- you can use a rotisserie chicken or leftover chicken from another meal, or you can grill or bake your own chicken for the recipe. I love to eat it in crunchy lettuce wraps or over arugula.
Ingredients
Serves
Marinade

Olive Oil

1/4

cup

Dried Rosemary

1

tbsp

Dijon Mustard

1

tsp

Salt

1

big pinch

Pepper

1

big pinch

Chicken Thighs

1

lbs

boneless

Salad

Celery

1

stalk, finely diced

Mayonnaise

1

tbsp

optional, I like Sir Kensingtons avocado oil mayo

Dijon Mustard

1/2

tsp

or to taste

Rosemary

2

sprigs, leaves finely chopped

Pecans

1/3

cup

toasted, chopped

Dried Apricots

4

oz

thinly sliced, 4 ounces is approximately 2/3 of a cup

Lemon

1/2

zest and juice

Salt

1

big pinch

Pepper

freshly cracked
Preparation
In a small bowl, whisk olive oil, rosemary, dijon, salt & fresh pepper to combine. Place chicken in a large ziptop bag and pour over the olive oil mixture. Massage to make sure all chicken is coated. Set aside to marinate for at least an hour, up to 12 hours. If marinating more than 30 minutes, place in fridge. Just be sure to remove from fridge for a little while before cooking as ice-cold chicken won't cook properly.
While the chicken is marinating, in a large bowl combine celery, mayo if using, dijon, rosemary, pecans, dried apricots, lemon, salt & pepper.
If you're grilling, preheat the grill to medium-high, then grill chicken for a few minutes on each side.
If you're roasting, preheat oven to 425 °F (218 °C), spread chicken on a baking sheet and roast for 25 minutes.
Allow chicken to cool until easily handled. Chop into strips or small chunks, whichever you prefer, and mix with the apricot-pecan mixture. Taste for seasoning and adjust for preference.
Details
8 Free Recipes
44 Recipes Total
Unlock Diane's complete Paleo Recipes and add this recipe pack to your collection of recipes!